Program PETRONAS GEES Untuk Graduan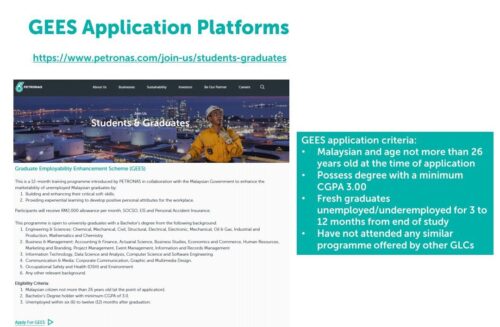 PETRONAS is made up of a young workforce, with 56% of our people below the age of 36. Ranked by Malaysia's 100 Leading Graduate Employers (M100) as the employer of choice for two consecutive years, PETRONAS is a great place to launch a career that is enriched with knowledge, technical and leadership skills. We know that applying for your first internship or job can be an overwhelming experience. No matter what your ambition may be, we encourage you to take your time to discover the opportunities we have to offer and see where you might fit in.
Internship
This is a dynamic platform designed to provide undergraduates from related disciplines with hands-on experience in the oil & gas industry, and a chance to engage in various areas of a global company's operations.
The followingthree significant objectives have been incorporated into the programme:
Gain experience of integrating theoretical knowledge and its application in the industry.
Acquire knowledge, skills and mindset to shorten the undergraduate's learning curve.
Accelerate the process of identifying potential talents for PETRONAS talents strategy employment.;
Requirements:
Malaysian or PETRONAS Sponsored Student pursuing an undergraduate degree in higher learning institutions, either in Malaysia or overseas, in related disciplines where internship is a mandatory part of course completion (preference will be given to third and final year students).
Application is also open to Malaysian pursuing diploma degree in higher learning institutions, either in Malaysia or overseas, in technical / engineering disciplines where internship is a mandatory part of course completion
Internship participation for a minimum duration of three (3) months and maximum of eight (8) months.
Submission of the following documents (completed documents MUST be submitted via the application portal)

Curriculum Vitae
Copy of latest academic results
Copy of the Industrial Training / Internship Letter (signed by the University)
Terms & Conditions:
Application must be submitted three (3) months prior to the commencement of internship period.
Should you not receive any reply from us within two (2) months prior to start date of your internship duration, please consider your application as unsuccessful.
Acceptance OR declination of offer must be notified within five (5) working days.
Only online applications will be entertained. Postal / courier applications are deemed as incomplete.
Apply For Internship Graduate Employability Enhancement Scheme (GEES)
This is a 12-month training programme introduced by PETRONAS in collaboration with the Malaysian Government to enhance the marketability of unemployed Malaysian graduates by:
Building and enhancing their critical soft-skills.
Providing experiential learning to develop positive personal attributes for the workplace.
This programme is open to university graduates with a Bachelor's degree from the following background:
Engineering & Sciences: Chemical, Mechanical, Civil, Structural, Electrical, Electronic, Mechanical, Oil & Gas, Industrial and Production, Mathematics and Chemistry
Business & Management: Accounting & Finance, Actuarial Science, Business Studies, Economics and Commerce, Human Resources, Marketing and Branding, Project Management, Event Management, Information and Records Management
Information Technology, Data Science and Analysis, Computer Science and Software Engineering
Communication & Media: Corporate Communication, Graphic and Multimedia Design.
Occupational Safety and Health (OSH) and Environment
Any other relevant background.
Eligibility Criteria:
Malaysian citizen not more than 26 years old (at the point of application).
Bachelor's Degree holder with minimum CGPA of 3.0.
Unemployed within six (6) to twelve (12) months after graduation.
Apply For GEES | For Full Scholarships Click Here


Advertisement





(Visited 19,668 times, 2 visits today)