Maxis Technology Undergraduate Scholarship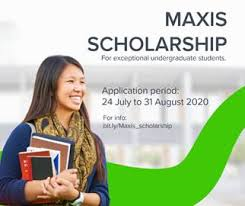 Scholarship Info
As a company that is passionate about embracing digital innovation and leveraging cutting edge technologies, we are committed to shaping and grooming Malaysia's best tech talent. The Maxis Technology Undergraduate Scholarship provides the opportunity for deserving students to develop academically and enhance their tech talent.
Open to outstanding Malaysian students intending to pursue undergraduate studies in the following fields of study:
Engineering (Network/Telecomm/Software/Mechanical/ Electrical/Electronic)
Computer Science
Data Science/Actuarial Science
Mathematics/Statistics/Applied Sciences
Eligibility
General criteria:
Open to Malaysians, not exceeding 23 years of age at the enrolment date for the undergraduate studies
Excellent academic track record
Obtained admission to pursue undergraduate studies at a recognized university/college in Malaysia
Strong leadership skills and active participation in extracurricular activities
Good command of English (written and verbal)
Family household income of not more than RM20,000 per month
Not presently holding any other scholarships/loans/grant/financial assistance from any other organisations and/or institutions
Refer to the respective application sites for full eligibility criteria and scholarship T&C. Maxis reserves the right to amend the criteria and T&C from time to time.
How to apply for Maxis
Application
Applications must be submitted online by 31 August 2020.
Only shortlisted applicants will be notified.

APPLY NOW!! | Senarai Lengkap Biasiswa 2020/2021 KLIK SINI


Advertisement





(Visited 11,854 times, 1 visits today)